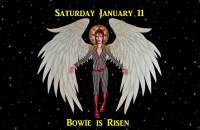 A Very Blasphemous Mass! (Blasphe-Mass)!
First Church of the Sacred Silversexual, Hubba Hubba Revue and Tourettes Without Regrets! combine forces for a night of Blasphemy! Bowie! and Burlesque!
Time: 9:00pm Day: Saturday Ages: All Ages Price: $15
This Event Has Ended
Blasphemy! Bowie! Burlesque!

The World's ONLY David Bowie Church brings you a very special Mass so Blasphemous it could only take place in Oakland!

On Saturday, January 11 at the Oakland Metro Operahouse, get ready for a night of Religion and Revelry!

Three acts share the stage and pull you in three different directions in the hopes of saving your Mortal Soul!

The First Church of the Sacred Silversexual wants you to know that David Bowie loves you, and that if we Sparkle the Starman may land tonight! A raucous rock shaw featuring an 11-piece Worship Band that brings you the Story of Bowie as told through live music, dance, drag and spectacle!

Tourette's Without Regrets, the mutated hybrid of hip-hop, stand-up blitzkrieg comedy, performance art and fucked-up theater, brings you Religion Without Regrets! Channeling the long-forgotten Mother religions in Dionysian debauchery complete with sex, drugs and spoken word! An enticing, guilt-free send-up of false idols and shameless shamans!

Hubba Hubba Revue encourages you to worship at the Altar of Tassels & Sequins for their Celebration of Skin! The mix of irreverent comedy, classic striptease, circus and variety acts (are there circus/variety acts? nabbed this from your wesite) will have you mesmerized! Plus a very special tribute to their patron saint, the original Hip-Gyrator, Elvis Presley!

So who will you pledge your soul to on this Blessed Night?